Skype offers the best voice over IP service, and you will benefit from its advanced features by setting up a Phone System with PrettyMay Call Center for Skype(PMCCS).
Why choose PrettyMay Skype PBX systems?
A Skype PBX Phone System with small price, also saves your money.
Low Cost, PMCCS priced from $350, no monthly fee, no extra hardware required.
Rich Features, voicmail, auto-attendant, IVR, call route, call recording, and much more.
Using Skype, your employees use Skype to receive incoming calls, and make outgoing calls in anywhere,it will be very flexible for multi-location offices inegration or home agents.
Skype Business Solutions, Bring Skype into your business environment, save money at the same time.
Easy Set Up, unlike other telephone systems, PMCCS is easy to install, saving you time and money; you can even do it yourself. And with its easily configured settings, moving employees or changing the way your phone system handles calls is a snap.
Flexible Growth, PMCCS allows you to set up to 500 extensions as your businesses grow.
How does PMCCS handle incoming calls?
Your customers contact you by calling your SkypeID or SkypeIn number, Our Skype PBX phone systems automatically answers the call, and lead the caller into the built-in IVR system, then transfer the call to the appropriate agent/staff depend on the button the caller pressed.
Besides, with one SkypeIn number, you will have up to 30 simultaneous Skype or SkypeIn lines supported in PMCCS.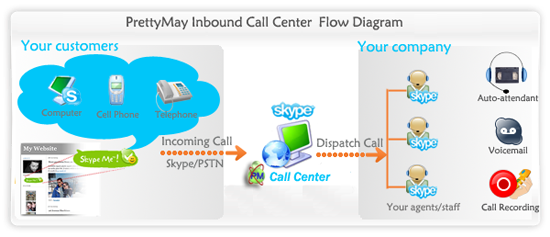 How to make outgoing calls through PMCCS?
Your employees dial into PMCCS by their Skype account or any phone, after identified by PMCCS, they will allow to input the phone number they want to call, then PMCCS will make the outgoing calls for them, and they don't need to have Skype Credit balance on their own Skype account.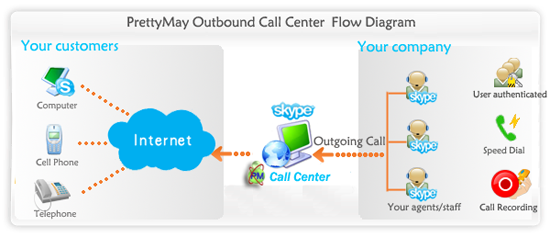 How to Get Started?
Step 1 - Download PMCCS
Download and install PMCCS to your computer.
Step 2 - See a demo configuration of PMCCS
Learn a demo configuration of PMCCS, and you will have PMCCS up and running in just a few minutes. For a full user manual, download it at here

(2.26MB)
Step 3 - Buy a PMCCS license
Purchase a PMCCS license and use it for lifetime
Call Center for Skype
Solutions